Denia in Spain. The colorful seaside town of Denia enjoys a privileged location right on the northern edge of Alicante province. It sits on the coast of the Mediterranean opposite the Balearic Islands and is backed by the impressive mountains of Montgo Natural Park.

Denia is located between the major cities of Alicante and Valencia, an interesting mix of old and new. Its sandy beaches extend beyond the eye can see, and the city is a magnet for those who like sailing and those who want to relax with a day at the beach.

Situated on a hill above the harbor you will find the impressive medieval fortress "El Castillo", built in the 11th and 12th centuries and later expanded. The castle is one of the biggest sights in Denia. From the towers of the castle one has a magnificent view of the coast, and especially in the summer season there are concerts in the castle.

Denia is known for its castle ruining the city and for its fine dining, with over 300 restaurants, even the discerning food lovers will find something they like. In addition to being a favorite of Northern European tourists, Denia is a popular destination for residents of the capital Madrid, which escapes the city during the hot summer months.


Video about Denia



The city of Denia is a wonderful place to visit, where you will easily enjoy a day or two! The castle proudly guard the city, and from here you have a wonderful view over the harbor. The Montgo Nature Park and Torre del Gerro both have marked hiking trails to explore. The prestigious marina with its stunning promenade, and a 20 mile coastline with beaches. Experience the fish market, the old town and the main shopping street as well as the museums. If that's not enough, take the train south to Calpe, Altea, Benidorm or the city of Alicante, alternatively take a ferry to Ibiza or Palma for one night!


Old town of Denia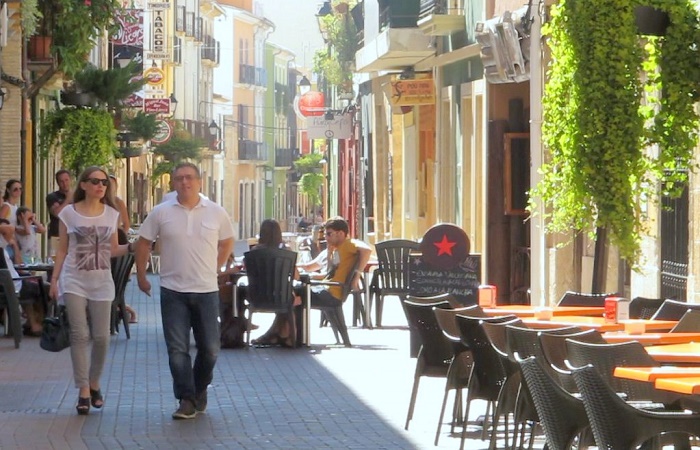 In the old town of Denia you will find narrow and picturesque streets of Moorish origin. Many beautiful buildings from the modernist period, a certificate to the fact that Denia had a major importance as a trading center, especially towards the end of the 19th century. Denia is also known for its toy industry, and beautiful exhibits are exhibited at the Toy Museum. Near the harbor is the quarter "Baix la Mar" with the traditional houses of fishermen and picturesque squares and streets. Here you can enjoy good seafood, well-known are the "Gambas Rojas" (red prawns). Another specialty is sweet wine "Mistela", which fits excellent as an aperitif or for dessert.


Travel tips Denia in Spain
Everything you need to know about attractions, shopping, beaches, restaurants, climate and many other travel tips in the beautiful seaside town of Denia, Spain. Perfect when planning your vacation and need inspiration for experiences in Denia.


Attractions in Denia
The Palace of DeniaIf you are going to visit Denia, there are some places you should not miss. This city, also the capital of Mariana Alta, has an impressive history, beautiful scenery, historic buildings, museums, a wealth of experiences and activities, as well as world famous fiestas. Denia has really something to offer for everyone, both big and small. The castle of Denia can be seen from everywhere, the castle thrones over the city, and it seems that the castle still protects the city. If you are at the castle you will enjoy an amazing view of Denia, the Mediterranean and the surrounding areas. The archaeological museum is really worth a visit, to get an impression of the rich history. Directly from the castle you walk into Denia's oldest neighborhood – Les Roques, with small streets and houses. You can still feel the story vibrate here. Les Roques takes us almost automatically to the next step on the Calle Loreto list. Read more about sights in Denia


Denia restaurants
The best restaurants in Denia in SpainDo eat with friends and family in Denia, and need tips for good restaurants that will surely taste the taste? If you are going on holiday to Denia in Alicante province there is no doubt you want to find out the best places to eat out, so let's be your guide and make the most of your holiday in Denia. In Denia you will find a restaurant with 3 Michelin stars. Quique Dacosta is located in Las Marinas near the harbor and is one of only 21 new restaurants that have got three prestigious stars. Read more about Denia restaurants


Nightlife in Denia
Best nightlife in Denia, Spain The town of Denia is as busy at night as it is during the day. Here you will find hundreds of bars, pubs and nightclubs, many with live entertainment during the summer months. Although the nightlife in Denia may not be as hectic as in the nearby towns of Benidorm and Alicante, you will certainly not be sad during the evening in this beautiful city, home to many bars, restaurants and festivals that are being arranged during the course of all year. A great place to start the evening and watch the world go by is at the Jamaica Inn on the seafront. You can then walk around the corner to the pedestrian area Plaza San Antonio which is home to a handful of bars and restaurants. Another tip is to start the evening with a drink overlooking the yachts in the harbor from the balcony of the Republic. Read more about nightlife in Denia


Shopping in Denia
Best Shopping in Denia, Spain A visit to Denia would not be complete without any souvenirs and gifts. If you want a walk around a local street market or a day of shopping in the city center, our local experts can recommend the best shopping malls, shops, and markets. The Denia Center offers a unique shopping experience like most other coastal towns in Alicante Province. Here there are plenty of shops to visit whether it is for good affordable purchases or for luxury brands. The main area of ​​Denia shopping center is the streets: Calle Marqués de Campo, Diana, Candida Carbonell, La Mar and Carlos Sentí. This zone houses the municipal market and many shops, shoe shops, bars, restaurants and pubs. This is also the financial center of the city. Read more about shopping in Denia


Beaches in Denia
The beaches of Denia There are 14 kilometers of beautiful sandy beaches in Denia. The beaches of Les Marines, Les Bovetes, Les Deveses and Els Palmars are ideal for family days. The water is clean and safe and is patrolled by lifeguards during high season, and boasts the European Blue Flag for its water quality. On the north side of Denia there are beautiful sandy beaches that are perfect for lazy days on the beach, swimming and long walks. These beaches have all the amenities you need. On the south side there is more cliffs and is perfect for diving, stuping and fishing. Read more about beaches in Denia


Car hire in Denia
If you need a rental car for your stay in Denia, it's easiest to book it for pickup when you arrive at Alicante airport. Then you can easily return it when you return to your home country, and you do not need alternative transport to and from Alicante Airport. In most cases, this is less expensive than using small local suppliers in Denia. You can easily check and compare prices on car hire in Denia yourself using the search form below. Or you can read more Read about car hire in Denia



Climate in Denia
Denia has an average annual temperature of about 20 degrees, with warm summers and mild winters. The best time to go on holiday to Denia is undoubtedly the months of June through September. About 44,000 inhabitants live in Denia. The foreign residents account for 30% of the local population. During the summer months, the population can increase to 200,000 people. The position of Denia in Valencia, and close to the Balearic islands, gives a lot of wind that is very comfortable during the summer. Denia on the Costa Blanca coast of Spain and has more than 2800 hours of sunshine every year with an annual average temperature of 19.3 degrees Celsius. Read more about climate in Denia


Map of Denia