Are you looking for car rental companies in Denia? We have created an overview of rental car companies that are located in beautiful Denia, Spain. We show you local car hire companies in Denia city, the Port, and big rental car companies with a office at Alicante Airport and Valencia Airport.

Call booking +34 653 221 333 for cheap car hire in Denia.


Common for these car rental companies in Denia is that they are some of our car hire partners. By using the search form below you can compare prices from all the big car hire companies in Denia. So you don't have to go into each company page and search manually. In addition, we have over 20 other car hire companies that you will also see prices from. In that way we can guarantee you the best price on car rental in Denia.

If you need help with your booking, or have any questions about car hire in Denia or at the airports. Please call +34 653 221 333. ( Monday – Sunday 09.00am to 10.00pm ), or contact us


Car hire companies in Denia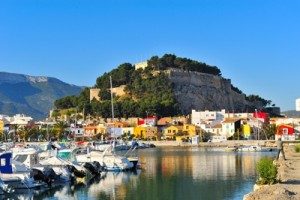 Car hire companies in Denia with office located at Alicante Airport and Valencia Airport. If you need a car for your stay in Denia, it is cheap and easy to book it for pickup when you arrive at Alicante airport, or Valencia Airport. Then you can return the car when you going back to your home country, and you do not need alternative transport to and from Alicante og Valencia Airport. In most cases, this is cheaper than using small local car hire companies in Denia.

Millions of tourists each year rent a car at Alicante Airport and Valencia Airport, and in the high season it may sometimes be difficult to get the kind of car that you want. Here are som quick tips:

Rent a car from car companies in Denia online
Book your car from the car hire companies in Denia early
Do not forget the size of your luggage
Be prepared and save time
Check your car from the car hire companies in Denia when you pick it up

Also read: 15 Cheap car hire tips Denia


Centauro car hire Denia

Centauro is one of the largest car rental companies in Costa Blanca, Spain with more than 12,000 vehicles ready for leisure or business, ensuring a comfortable journey. They also have one of the latest car parks. They are known for affordable prices and for quality. They provide family-friendly cars, automatic transmission, convertible, industrial vehicles, vans and vehicles with 7 and 9 seats. Read more about Centauro car hire Denia


Goldcar car hire Denia

Goldcar is one of Spain's leading car rental companies and is the largest dedicated to the tourism industry. The company, which has over 25 years of experience, now has 44 offices in airports and major tourist destinations in the Spain, the Balearic Islands and the Canary Islands. Goldcar owns a fleet of more than 32,000 rental cars and renews more than 70% of the fleet each year. Combined with highly qualified employees, Goldcar annually has more than 1.5 million customers worldwide. Read more about Goldcar car hire Denia


Firefly car hire Denia

Firefly Car Rental is a cheap rental car brand owned by Hertz. Hertz developed the new brand to replace Advantage Rent a Car which had to be sold after the acquisition of Dollar Thrifty Automotive Group. Firefly is a car rental company that offers low-cost car rentals for holidaymakers and has offices in top holiday destinations in Spain, including Malaga, Murcia, Alicante, Barcelona, ​​Madrid, Seville, Valencia, and Reus. Firefly's fleet offers a wide range of rental car options, depending on your needs and budget, from small cars to short weekend breaks with your loved ones, to larger vehicles you can rent for extended family holidays. Firefly was first opened in March 2013 with branches in Europe, with US branches that followed in September 2013. In August 2014, Firefly opened its first location in the Middle East serving Dubai Airport in the UAE and in September 2014 opened the first locations in Australia. From January 2015 it has over 100 locations in 13 countries. Read more about Firefly car hire Denia


Europcar car hire Denia

Europcar is a car rental company established in France in 1949 and has since then developed into an international network that has branches or most of the world. Europcar is considered the market leader in Europe and has won the title "Europe's Leading Car Hire Solution" in the World Travel Awards ten years in a row. Together with partners, Europcar has become part of the world's largest car rental network with 13,500 rental outlets spread across 162 countries worldwide. The primary business area is within short-term rental of cars, buses and trucks for both private and business customers as well as leasing for shorter and longer periods. Europcar International is a wholly owned subsidiary of Eurazeo. Eurazeo is listed as one of Europe's largest investment companies.


AVIS car hire Denia
Avis car rental operate one of the world's most well-known car rental companies with about 5750 locations in more than 165 countries. Avis has a long history of innovation in the car rental industry, and is one of the world's premier brand loyalty brands. Avis is owned by Avis Budget Group, Inc., which operates and licenses the brand throughout the world. Founded in 1946 by Warren Avis, AVIS was the first company to hire cars from airports. The company grew rapidly during the 1950s through franchises and partners. And launched In 1963, the award-winning "We try harder ®" campaign and slogan is the company's slogan even today.


Hertz car hire Denia
Hertz is a car rental company which is a subsidiary of Hertz Global Holdings INC. It is an American car rental company with international departments in 145 countries worldwide. The company is based in Park Ridge, New Jersey. Hertz is the largest US car rental company. Hertz's car fleet consists of a broad majority of car manufacturers, with the majority being GM cars. Luxury cars are provided by Mercedes, Hyundai, and Cadillac. Earlier, due to Hertz's affiliation with Ford, the car rental section consisted of most Ford branded brands, such as Mazda, Volvo, Mercury, and Lincoln, along with various other car brands, mostly Korean and Japanese. Hertz has branch offices at most airports in Spain. You will also find offices in major cities and popular tourist resorts. Read more about Hertz car hire Denia


Record car hire Denia

Record Rent a Car is a nationally leading car rental company. Founded in 1966 in Castellon, the company has over the years become one of the top five in Spain. Thanks to the focus on low cost, good customer service and all-inclusive packages, the company has over 120,000 satisfied customers. The company has a car fleet of over 30000 car rental cars, and is well represented at airports in Spain. Read more about Record car hire Denia


Sixt car hire Denia

Sixt is a worldwide car rental company headquartered in Pullach, Germany. It has about 4,000 branch offices in 105 countries. Sixt was founded in 1912 by Martin Sixt in Munich, and continues to expand internationally. Sixt slogan is "Spirit of Mobility". The company is owned 57% of the Sixt family. Sixt is the fifth largest car rental company in the world and is the largest BMW car rental company in the world. Sixt is named after the founder Martin Sixt. Sixt was founded in 1912 with seven cars in downtown Munich. It was originally called the "Sixt Autofahrten" and then only had Mercedes rental cars in the fleet Sixt has expanded over the years and has become the leading car rental company in Germany, Austria and Switzerland. The car company Sixt can be found at most airports in Spain.


Read more about Denia
– Denia
– Car hire Denia
– Airport Transfer Denia
– Long term car hire Denia
– 15 Cheap car hire tips Denia
– All inclusive car hire Denia
– SUV car hire Denia
– Convertible car hire Denia
– Minivan car hire Denia
– 7 & 9 seats car hire Denia
– Automatic car hire Denia
– Cheap car hire Denia
– Car hire in Denia with child seats
– Car hire Denia no excess